Connecting Success Factors to Bennett
The Dubious Phone Call and Time Wasting Project
The folks at TPG will have to answer to my Whistleblower Complaints on the truly odd collection of RFPs emanating from companies connected to Richard Blum, William McGlashan, CBRE, Regency Centers, Trammel Crow, Lennar, Catellus.
Sara Stelzer's life was just beginning when it was tragically cut short.
At 18, Sara — a smart, loving and thoughtful girl — was a freshman at San Diego State University when, one Saturday in October of 2014, she called her parents to complain of a
bad headache
. Her headache soon was paired with exhaustion and nausea, leading the teen to sleep through some of her classes after the weekend was over.
"We thought it was the
flu
— we told her to rest and go to the student health center. She was more concerned with missing classes than how bad she felt," Sara's father, Greg Stelzer, 63, told Fox News.
But Sara then developed a blotchy, purple rash — what her parents would later learn was a sign of
meningitis B.
HAWAII CONFIRMS 3 RECENT CASES OF RAT LUNGWORM DISEASE IN US VISITORS, SAYS TOURIST ATE SLUG ON A DARE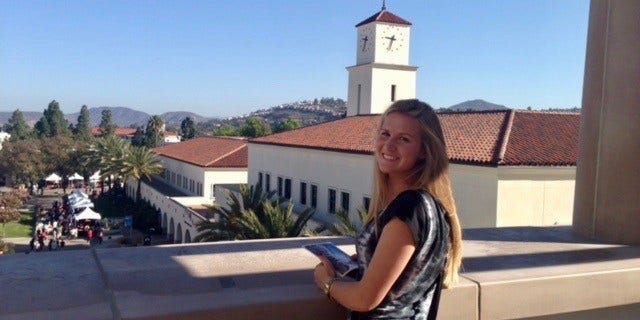 "For us, this has been like therapy — it's Sara's legacy. It keeps her memory alive," said Greg. (Greg Stelzer)
Sara was in the emergency room by Tuesday morning, a friend of Sara's informed Greg and his wife Laurie via text message. By the time they drove to the hospital from the Los Angeles area later that afternoon, Sara was in an induced coma.
Though Sara's doctors, after determining she contracted bacterial meningitis, started the teen on antibiotics, it was too late: the virus had spread to her brain and spinal cord. By the time her parents reached her, she was brain dead.
"In our minds, that was when she passed away," said Greg.
In less than two days, their daughter was gone.
CLICK HERE TO GET THE FOX NEWS APP
"We had no idea that these flu-like symptoms could develop and kill her within 36 hours," Laurie, 51, told
Yahoo Lifestyle.
Meningococcal disease is primarily caused by five types of meningococcal bacteria —
A, C, W, Y and B
. The Centers for Disease Control and Prevention (CDC)
recommends
children between ages 11 and 12 receive a meningococcal conjugate vaccine and receive a booster at 16 to prevent against serogroups A, C, W and Y. In addition, those age 16 to 23 can also receive a serogroup B meningococcal vaccine, the agency added.
Sara received the meningococcal conjugate vaccine her father said, but not the serogroup B meningococcal vaccine.
One of the main meningococcal serogroup B vaccines — Trumenba — was
first licensed
in the U.S. in 2014, before another — Bexsero — became available in 2015, per the
Immunization Action Coalition.
https://www.foxnews.com/health/california-meningitis-b-infection-kills-teen