Connecting Success Factors to Bennett
The Dubious Phone Call and Time Wasting Project
The folks at TPG will have to answer to my Whistleblower Complaints on the truly odd collection of RFPs emanating from companies connected to Richard Blum, William McGlashan, CBRE, Regency Centers, Trammel Crow, Lennar, Catellus.

---
My story is about witness murders, private equity, mergers and acquisitions linked back to the Matter of Bennett v. Southern Pacific lost in 1989. It was a winnable case as long the witnesses testified.
The Life and Times of JFK, Jr.
July 16 marks the anniversary of Kennedy's tragic plane crash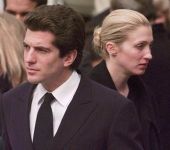 John F. Kennedy, Jr., and his wife, Carolyn Bessette Kennedy, died in a small plane on July 16, 1999.
The Kennedys
Related Links
July 16 marks the anniversary of the death of
John F. Kennedy, Jr.
, his wife,
Carolyn Bessette Kennedy
, and Carolyn's sister,
Lauren
, who perished on their way to
Martha's Vineyard
, when their plane, piloted by Kennedy, crashed.
The National Transportation Safety Board, after a lengthy investigation, concluded that Kennedy suffered from spatial disorientation, a condition that arises from a loss of balance in the inner ear and causes confusion. Kennedy's problems were exacerbated by the hazy night sky and his inability to see the horizon. The NTSB also said investigators did not find any mechanical problems with Kennedy's plane, a Piper Saratoga II.
In death, Kennedy was the subject of the same
media frenzy
that chronicled his every public move and speculated on his
private affairs
as well. Television
networks
preempted regularly scheduled programs to cover the search for remains and the wreckage of Kennedy's aircraft, which Kennedy purchased in April.
First Infant in the White House
Kennedy was born on November 25, 1960, only weeks after his
father
was elected president. He was the first child born to a president-elect and the first infant to live in the White House since the
Cleveland
administration. Three years later, the world watched as the three year-old, on his birthday, saluted his father's casket as it passed by. Two weeks after the funeral, his mother, Jacqueline Kennedy, moved John, Jr., and his sister, Caroline, out of the
White House
to Manhattan, where she made every attempt to raise her children as normally as possible, out of the public eye. "Unless he's allowed freedom," his mother said, "he'll be a vegetable."
Influence of Jacqueline Kennedy
With all her influence and grace,
Jacqueline Kennedy
could not tame the media. Nevertheless, she did succeed in raising two children that matured into compassionate, responsible, independent adults.
Caroline Kennedy Schlossberg
has maintained a much more private life. Rich, handsome, polite, and charismatic, John Jr., was too much for the media to resist.
Prestigious Schools, Failed Hopes
Kennedy attended Manhattan's Collegiate School for Boys and graduated from the elite
Phillips Academy
in Andover. Unlike many of the Kennedy men who attended Harvard, John went to
Brown University
, graduating in 1983. After flirting with an acting career, John enrolled in New York University's Law School, a move many now say was motivated by his mother's wishes. He failed the bar twice, prompting tabloids to call him the "hunk who flunked."
"Sexiest Man Alive"
In 1988,
People
magazine dubbed him the "
Sexiest Man Alive
." When he introduced his uncle, presidential hopeful Sen.
Edward M. Kennedy
, at the
1988 Democratic National Convention
, pundits speculated that John, Jr., was readying himself for a run for office. Instead, he went to work as a prosecutor for the Manhattan District Attorney. After amassing an impressive 6–0 record from 1989 to 1993, he resigned.
Publishing, Not Politics
While never outright ruling out a run for political office, Kennedy told Vogue magazine, "I frankly feel there are many opportunities and avenues outside of elective office to become involved in issues, issues that have the same broad scope that government or elected office provides you."
The avenue Kennedy chose was publishing. In 1995 he launched
George
magazine, a glossy, non-partisan political journal subtitled "not just politics as usual." In addition to his duties as editor, he wrote essays and conducted interviews, which included discussions with
Mike Tyson
and
Fidel Castro
. In a 1997 essay, Kennedy called his cousins
Michael
and
Joseph
, who suffered personal embarrassments in the public eye, "poster boys for bad behavior."
While he led a life under intense media scrutiny, Kennedy did not give the press much fodder. Aside from a few public spats with his wife, Carolyn, a former
Calvin Klein
executive, Kennedy kept an essentially low profile. A passionate philanthropist, Kennedy volunteered with several nonprofits and sat on the boards of several family foundations. He was often seen inline skating around his
TriBeCa
neighborhood, jogging in
Central Park
, or out and about in Hyannis Port, where the Kennedy family gathers in the summer.